Atbalsti ManaBalss.lv
Ja katrs no mums ziedotu vismaz 5 eiro, mēs varētu nosegt gada izmaksas un attīstīt jaunas digitālās demokrātijas platformas, lai tu varētu ietekmēt politiku Latvijā.
Lūdzu palīdzi mums sasniegt iecerēto – kļūsti par ziedotāju!
Looking back at the international event "From Crowd to Action: the future of digitalised democracy in Europe?"

On November 23, 2017, organisation ManaBalss.lv hosted an international one-day event "From Crowd to Action - the future of digitalised democracy in Europe?". This event has been funded with the support of the European for Citizens programme 2016 of the European Union under activity Democratic engagement and civic participation. The event is a part of "The European Citizens Crowdsourcing" project.
The international event was organised at University of Latvia Faculty of Social Sciences in Riga and the evening part of the event was held in Kanepes Culture center in Riga. Both locations were chosen to engage youth in the project, as both place are where the young, bright Latvian people are spending their time ether for educational or cultural reasons.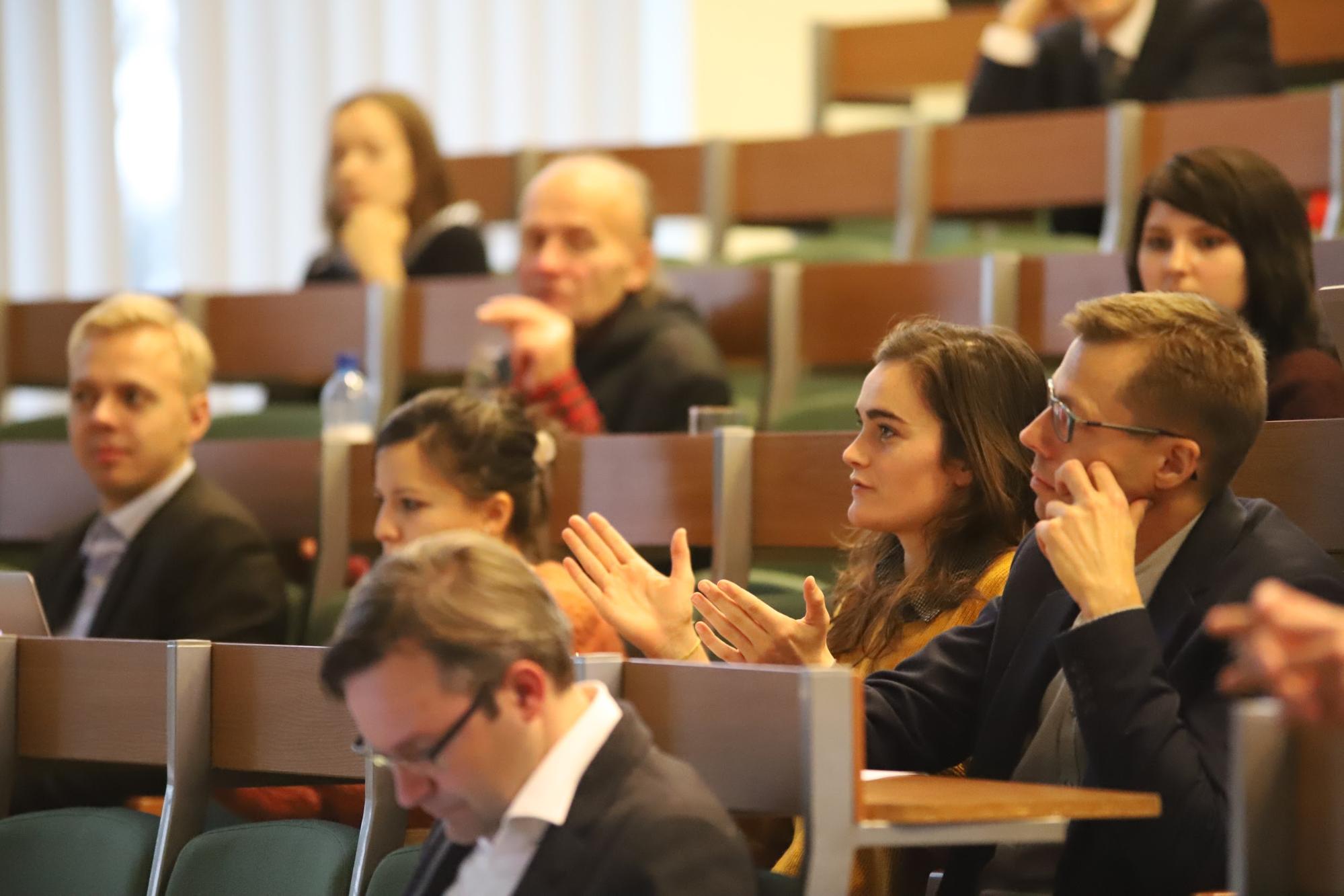 We succeeded to bring together international and local experts in the field of digital democracy, as well as activists, political scientists and students to learn from the best digital participation examples in the region and encourage further discussions on the power of crowdsourcing tools that can influence decisions and policies which are essential for the EU citizens!
Learn about the best crowdsourcing cases below! Click on each topic to see the presentation!
Case presentations: How can crowdsourcing bring real changes?
Valdis Pornieks, ManaBalss.lv: pop-up legislations platform ParVaiPret.lv
ParVaiPret.lv (ngo) provides every citizen an opportunity to follow-up and vote on the decisions. The site allows people to go online and vote on topics which are currently being debated on Parliament. Members of Parliament are voting upon every week in the Parliamentary sessions.
Sebastian Starzyński, company "TakeTask": crowdsourcing application "TakeTask" (Poland)
"TakeTask" (co) helps companies in performing tasks in the field by providing one task management application for employees and external communities. With their easy use task management and instant learning application companies can split their tasks between their employees and external communities (crowdsourcing), thus giving them flexibility, scalability and cost-effectiveness in the field of human resources. At the same time, "TakeTask" allows people to earn money and increase their qualifications.
Eduards Ozoliņš, Communication Department, State Chancellery of Latvia: governmental platform MazaksSlogs.lv (Latvia)
Mazaksslogs.lv (gov) is an online platform which was developed by State Chancellery of Latvia to promote public participation, improve the customer service culture in public administration and to assess the performance of public administation employees by submitting their feedback. Their main goal is to help to reduce administrative burden for entreprenuers and residents.
Linas Šivis, Sveiko Vaiko Institutas: crowdsourcing platform "Sveikas Vaikas" (Lithuania) - this presentation is not available
"Sveikas Vaikas" (ngo) was a crowdsourced platform, which helped to promote additive free products. The project was revolutionary – it reached over 1 million unique users (that is 1/3 of Lithuanian population), in 2009 it was awarded as the best social innovation on Internet ("Login/2009"). In 2010 organization was awarded as the best social initiative in Lithuania (Lithuanian National Person of the Year Election). Moreover, the project had huge social impact - Lithuanian parliament has implemented a law banning 39 hazardous food additives in kindergartens and schools.
During the event workshop part, project participants also shared their thoughts on the EU level crowdsourcing tools and how the EU level crowdsourcing project should look like. They answered the following questions: What should the citizens be able to decide on EU level? Is there a right time & place for crowdsourcing to have political impact? What should be the right technology for crowdsourcing at the EU level?
Here are the most important ideas about crowdsourcing at EU level we collected.
At the evening part, the discussion continued in the form of panel discussion amongst the experts, with an interactive engagement with the audience.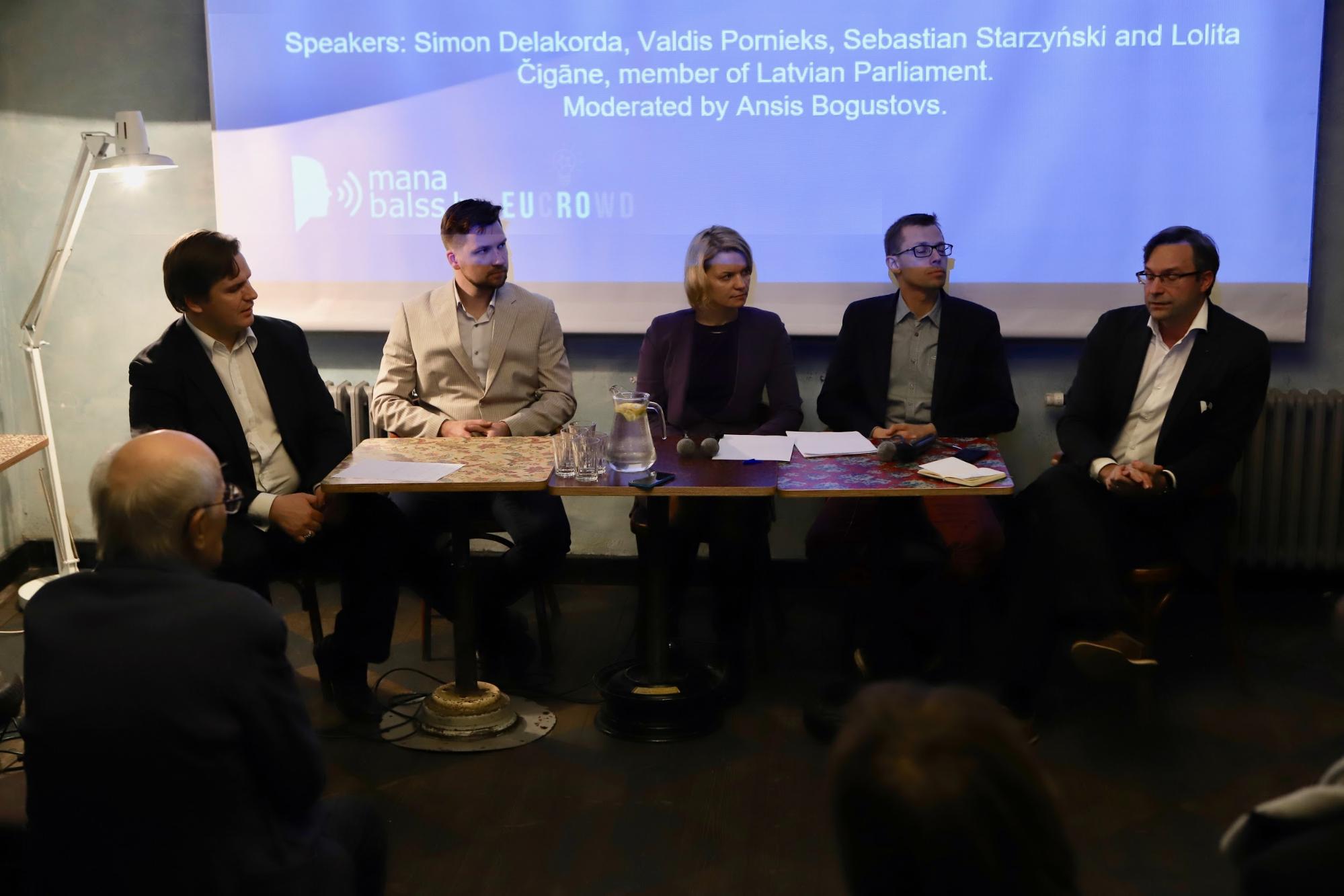 Discussion "Digital democracy in Europe - dream or reality?"
Speakers: Simon Delakorda, Valdis Pornieks, Sebastian Starzyński and Lolita Čigāne, member of Latvian Parliament. Moderated by Ansis Bogustovs, journalist.
Driven from the discussions on Latvian national initiative platform ManaBalss.lv as well as other national crowdsourcing examples, event participants and experts raised few important challenges for the EU level digital democracy/crowdsourcing pilot project:
Could there be a situation, when there is too much power to determine the content for digital platform itself? Should the platform or government make decisions about the platform content? Should the platform work only as a infrastructure not content watchdog?
Freedom of speech/ freedom of opinion - should it really exist 100% in the light of extremism threats?
Where is the "red line" for determining the content of the platform? Few discussion participants stressed out, that the platform shouldn't go against the national or pa-national core values and constitution, as well as the human rights,
Liquid democracy could be a method used in digital democracy that could possibly bring more trust to the system itself,
It is essential to take into account and mitigate the possibility of cyberattacks to the liquid approach as well as crowdsourcing platforms.
Crowdsourced topics should have an attachment to the people's' experiences, so they can find relationships bonds between the European legislation and the impact to their everyday life.
Participants had a common agreement, that crowdsourcing is and could be very useful to the EU decision making process, as it has already been proved to be useful from national experiences.